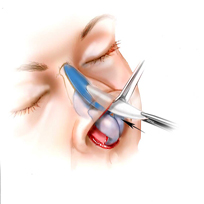 Who hasn't heard of the nose bob or the nose job? Cosmetic surgeons, rather more sedately, call it rhinoplasty. It's the most-requested procedure for the face, the one that can make the most dramatic difference on some faces and, unfortunately, also the one with the highest rate of post-op dissatisfaction (either because of over-expectations on the part of the patient or over-correction on the part of an ambitious surgeon, or because tricks by Mother Nature or due to constitutional factors can distort the intended result).
The first nasal surgeries are credited to the great Indian practitioner, Sushruta, in the 6th century B.C. In modern times, the development of nose correction procedures has closely paralleled the advancement of cosmetic surgery itself. In fact it was the nose bob that first made plastic surgery a household word. Until the early part of the 20th century, however, the surgical incisions were mostly placed outside the nose; today, they are placed inside the nose so that scars are not visible.
Additionally, techniques are far more refined today. While the earlier corrected noses had a "surgical look", today's new noses are more natural in appearance. The first rhinoplasty operations in recent times were directed at reducing the size of the nose; today, noses can be made smaller or larger, turned up, pushed back, have their nostrils thinned, their profiles made aquiline and much more.
Nose jobs may be requested for a number of different reasons :
Congenital malformations including deviated septum, saddleback deformities, double humps etc.
Aesthetic purposes such as refining a bulbous tip, trimming a long nose, narrowing down flared nostrils, etc.
Reconstruction of the nose (or a part of it) which may be required following severe injury, an accident or cancer surgery.
The surgery therefore basically involves altering or restoring nose shape by one or more of three approaches :
Removing underlying bone or cartilage
Moving and reshaping this underlying structure
Adding to it through the use of silastic implants. The skin is then re-draped over the new contours.
The procedure is essentially akin to raising or lowering the central support of a tent, thus altering its external appearance.