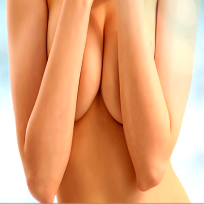 Physiologically speaking, the breast is just a secretory gland and a skin appendage. But in actual fact, a woman's breasts are not just sexual objects but also constitute an important part of her self-image. Their status as an erogeneous zone results from their extreme sensitivity arising from the large network of sensory nerves found all over the breasts and especially in the nipples.
Unfortunately, other physiological aspects of the breast make it, on the one hand, highly vulnerable to undesirable changes and, on the other hand, extremely difficult for creams, exercise and other agents to have more than a minimal effect on its appearance.Unlike other physical appendages like the arm or leg, the proper has no significant mass muscle, nor any system of joints, tendons or ligaments to maintain it in position. It is principally held in place by the holding ability of the skin brassiere that surrounds and covers it. The absence of significant muscle mass explains why exercise cannot increase breast size. And the loss of natural elasticity explains why, with increasing age, the high, firm breast of youth rapidly descends and sags.
Other factors also have a negative impact cosmetically speaking on a woman's breasts. During pregnancy and lactation, the breast increases in size. But in the period after childbearing, there is a great loss in the volume and substance of the breast, as well as a loss of elasticity. Weight reduction is another culprit often responsible for losses and shifts in the breast substance, skin stretching and stretch marks. Unfortunately, the first places in which weight is lost include the face and the breasts. All these factors that affect the size and firmness of breasts cannot be prevented by underwired bras, lotions or drugs.
Today, however, surgery can do much to enhance the youthful appearance of breasts, to give you a fuller bosom, even to restore a breast lost to cancer. In doing so, however, the cosmetic surgeon must take care not to sacrifice too much of those aspects of the breast, in particular its sensitivity, that make it much more than just another functional body organ.