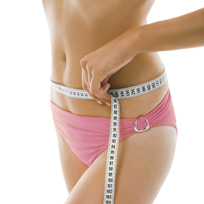 "Diets and exercise don't work". True or false? Unfortunately, all too true when it comes to saddle bags, love handles, spare tires and those other well-known trouble spots that resist every lifestyle-change method to whittle them down.
The trail is a familiar one : you follow a scientific, medically-supervised weight-loss regimen, and you do lose weight. Your scales, your measure tape, your waist-to-hip ratio all tell you so. But at the end of it all, you're still left with those bulges that just won't budge : may be that apron of flesh around your abdomen, or the side pouches of flab in your upper thighs, may be even your double chin - suspiciously similar to the one your mother has. The reason is that, these localised areas of resistant fat are genetically pre-determined - which is what makes them hang in there so stubbornly.
Just a decade ago, the only solution that cosmetic surgeons could offer for these fat traps was the old snip-and-trim option : cut away the excess flab (skin and underlying fat) and suture the rest back in place - thus tightening and improving the surface skin contour while getting rid of the pudge below. The procedure, known as lipectomy, found its greatest use in the case of abdominal overhangs, which can sometimes be so gross that they do not merely pose a cosmetic problem but are also a cause of discomfort and unease - the apron being sometimes so extensive that it completely covers the genitals, resulting in constant irritation, weeping and itching in the skin folds. Lipectomy re-shaped the area, giving the procedure its popular name, "the tummy tuck".
Apart from the abdomen, lipectomy was earlier also the only available solution to excise flab in the upper arms ("batwing arms"), thighs ("thunder thighs") and buttocks. To some extent, the surgeon was able to conceal the incision, e.g. in the natural bikini line, or in the inside of the thigh. But this was not always possible; in reducing heavy buttocks,and upper thighs, for instance, the surgeon had to cut away large melon slices of fat and skin, leaving long scars on each side, extending from the buttock crease to the hip bone.
The scarring left behind by lipectomy was its biggest drawback. By its very nature this was also major surgery, requiring several days stay in hospital and posing a long list of potential complications.
In an attempt to bypass these problems, cosmetic surgeons began to look at other ways of removing body fat. One of the earliest of these used a device that looked like a long-handled ladle to literally scoop out fat from the thighs or buttocks; sometimes the surgeon would first thin the fat, using a sterilised whisk to churn up the thick lumps, thus making it easier to remove. Unfortunately, along with the fat, blood vessels and nerves were also often removed. The procedure had to be hastily abandoned.
Then, about ten years ago, American surgeons took a closer, harder look at a method of spot reduction in which fat was first broken up and then suctioned out under negative pressure. In various forms, this approach had been tried out in Germany, Switzerland and France. The French method, developed in Paris by Yves-Gerard Illouz, is the one that the American surgeons studied, employed and, in the process, popularised to its current international status. It was called liposuction (lipos = Greek for "fat"), and since it involves only a small incision through which the fat is aspirated out of the body, it minimises scarring, hospital stay and post-operative complications. Over the last decade, liposuction has been used with such spectacular success that it has become the most in-demand cosmetic surgery procedure in the United States. Refinements in the method have also widened its scope to include more body areas, older patients, smaller incisions.
Not that lipectomy has been totally abandoned. Liposuction can remove fat, but it cannot remove skin that has stretched and become wrinkled and loose in the process of accommodating a great excess of fat. Such skin needs to be trimmed and then sutured into a flatter, tauter look. In other words, lipectomy. But liposuction has transformed the traditional approach to lipectomy as well. In the case of the tummy tuck, for instance, the fat is today first sucked out and the excess skin then trimmed (in contrast to the lipectomy-only method in which both, fat and skin, had to be excised.) The result : surgery that's simpler, safer and virtually scarless compared to the older version.
A combination of liposuction and lipectomy is also used in the case of batwing arms, characterised by a gross overhang of upper-arm flab.
Or, a face-lift might be simplified by first suctioning out redundant fat from a double chin and jowls, and then trimming and tightening the face and neck skin.
And, it seems the possibilities inherent in liposuction can only increase as technical advances (e.g. the use of laser) further minimise blood loss and other complications of surgery.